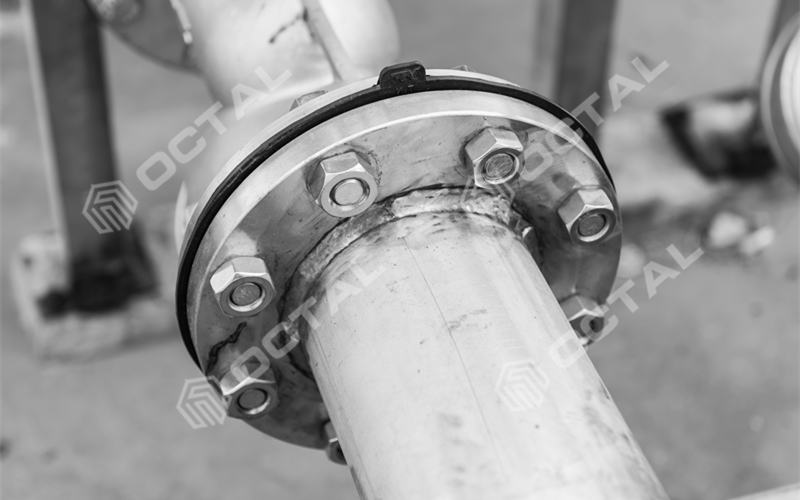 Flanged Joint Pipe / Flanged Pipe
Flanged joint pipe is pipe ends welded with flange, common installed in above ground in rigid pipelines, material including carbon steel, alloy steel and stainless steel.
Flanged pipe includeds ductile iron flanged pipe and steel flanged pipe, here we are mainly introduce the steel flanged pipe. (Types with forged flange.)
There are weld neck flange, slip on flange, socket weld flange, flat flange types, to weld on the pipe ends to make a complete flanged joint pipe.
Material types
Carbon steel flanged joint pipe: Flange material in ASTM A105N, ASTM A350 LF2, LF3, ASTM A694 F42,F46, F52, F60 to F70. Pipe material in ASTM A53, A106, A333 and API 5L;

Alloy flanged steel pipe: Flange material in ASTM A182 F5, F9, F11, F22, F91; Alloy pipes in ASTM A335 P5, P9, P11, P22, P91 etc.

Stainless flanged steel pipe: Flange material in 304/304L, 316/316L. Stainless steel pipe material in ASTM A312 TP304/304L, TP316/316L.
Flanged Joint Pipe used on above ground
Flanged steel pipe is mainly installed above ground. It is not good compatible with underground installation because of the rigidity of the joint. As the pressure bearing in underground structural, there are unequal settlement or the stress will cause the deformation on the flanged connection which may break the pipeline.
Application
Industrial Plants
Water transporation system
Sewage disposal plants
Fire protection pipelines
Shipbuilding System
Pumping stations
Wastewater treatment plants
Flanged Fittings
Flanged fittings includes:
Flanged Pipe Bend
Flanged Tee
Flanged Reducer
Flanged Elbow
Flanged fittings are flanged base pipe fittings, same with flanged joint pipe, the fittings ends butt welded with flange to form a flange connection.
Supply Range for Flanged Joint Pipe
Pipe Standard: ASTM A53, ASTM A106, ASTM A333 Grade 6, ASTM A335, API 5L
Flange Material: ASTM A105N, ASTM A350 LF2, ASTM A182, F5, F9, F11, F22, F91
Flange Type: Weld Neck Flange, Slip On Flange, Flat Flange,
Pressure class: PN6 to PN60, Class 150#, 300#, 600#, 900#, to 2500#.
Manufacturing standard: ASME B16.5, ASME B16.47 A, B, EN 1092-1
Outer diameter: NPS 1/2 inch to NPS 48 inch, 21.3 mm to 1219mm
Wall thickness: SCH 10, SCH 20, SCH STD, SCH 40, SCH 80, to SCH160, SCHXX; 1.24mm up to 1 inch, 25.4mm
Range of length: Customized. SRL, DRL, 6m, 12m.
Coating: Black paint, Varnished, Epoxy Coating, Polyethylene Coating, FBE, 3PE, CRA Clad and Lined, Fluoroplastic Lining
Contact Us Now for an Immediate Offer